"What separates EW BrightSparks from other high achievers is the commitment to helping other people as well."
Richard Watts, Electronics Weekly
The UKESF is thrilled that this year's BrightSparks Awards includes five of our Scholars. Proudly supported by the UKESF, the BrightSparks programme is run by Electronics Weekly in partnership with RS Grassroots, and aims to highlight the brightest young electronic engineers in the UK.
This years winners were recently invited to celebrate their success, and receive their award, at the IET in London. Read more about the event here. The Scholars were joined at the Awards by UKESF Chair Neil Dickins, who said, "It was great to attend the BrightSparks ceremony and see so many UKESF alumni and scholars receiving awards this year. This shows the value of the UKESF's undergraduate Scholars Scheme in nurturing young Electronics Engineers."
The winning UKESF Scholars are:
Simon A Betts – a graduating UKESF Scholar who studied MEng Electrical and Electronic Engineering at Cardiff University, and was sponsored by CSA Catapult. Among his many achievements at university, Simon has fully embraced his role as a UKESF Scholar, organising a number of outreach opportunities to encourage younger students to consider Electronics as career option.
David Kong – a graduating UKESF Scholar who studied MEng Electronics and Electrical Engineering at University of Edinburgh, sponsored by onsemi. David was the 2019 winner of the Automotive Electronics Undergraduate Competition.
Oana Lazar – a graduating UKESF Scholar who studied MEng Electronic Engineering at University of Southampton, sponsored by Siemens Digital Industries. Among her long list of achievements, Oana was the 2021 UKESF Scholar of the Year, runner-up for the 2020 UKESF Automotive Electronics Competition, student volunteer with 'Invent Plus', and will soon be starting a graduate position with her sponsor company as a Software Engineer.
Nishika Chettry – a current UKESF Scholar studying MEng Electronic Engineering & Computer Science at Aston University, sponsored by Renesas. Nishika recently volunteered at a UKESF Girls into Electronics event at Aston University, to educate and inspire female sixth-formers. In 2020/21, she also won the Electronic Engineering Departmental Prize.
Sharon Kudenko – a current UKESF Scholar studying MEng Electrical and Electronics Engineering at University of Bristol, sponsored by CSA Catapult. Sharon has spent the last 12-months on a placement with her sponsor company, working on automating photonics and RF testing.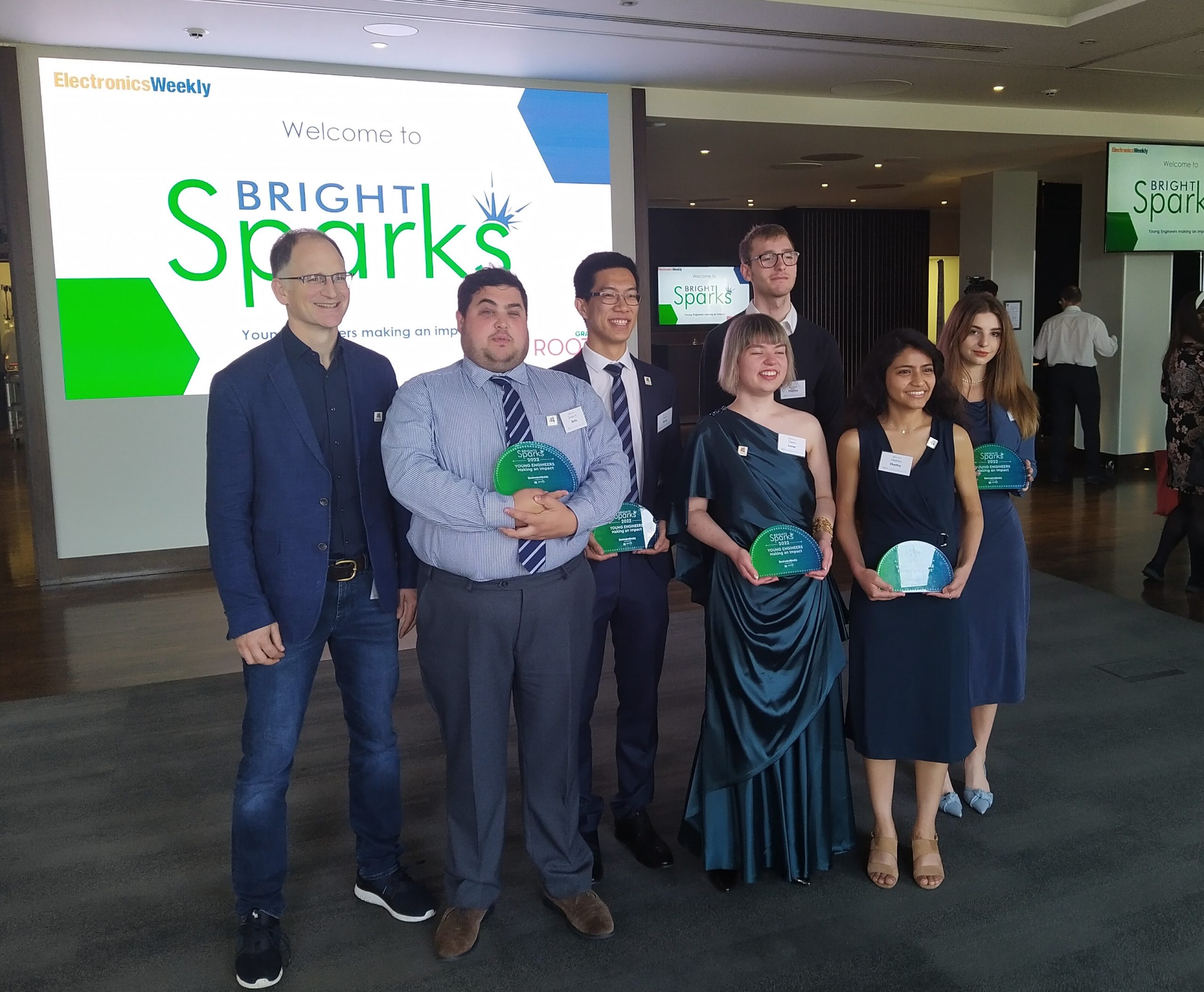 Neil Dickins, Simon A Betts, David Kong, Oana Lazar, Nathan Ruttley (former UKESF Scholar), Nishika Chettry, Sharon Kudenko
Also at the Awards was Richard Watts, Managing Director of emap and group publisher for Electronics Weekly. "What separates EW BrightSparks from other high achievers," he said, "is the commitment to helping other people as well. All the worthy winners have engaged with a wider community, to help others."

Images courtesy of Electronics Weekly
---