onsemi is driving energy efficient innovations, empowering customers to reduce global energy use.
Placement Location
Bracknell (Berkshire)
Type of Placements Offered
• Summer placements • 12-month placements • 6-month MEng placements
Restrictions/Notes
Students must have permanent right to work in the UK after graduation
2023/24 Scholarships
Multiple new scholarships
Who we are and what we do
onsemi is driving energy efficient innovations, empowering customers to reduce global energy use. The company is a leading supplier of semiconductor-based solutions, offering a comprehensive portfolio of energy efficient power management, analogue, sensors, logic, timing, connectivity, discrete, SoC and custom devices. The company's products help engineers solve their unique design challenges in automotive, communications, computing, consumer, industrial, medical, aerospace and defence applications. onsemi has design centres in key markets throughout North America, Europe and the Asia Pacific regions.
The Bracknell design centre researches and develops image sensor products for Automotive Advanced Driver Assistance Systems (ADAS) and Industrial and Commercial High Resolution viewing markets. Automotive markets are growing rapidly due to new applications such as driver monitoring, e-mirror and 360-degree sensing.  Industrial & Commercial sensors are also in demand for production line high speed quality inspection.  Onsemi is a long established world leader in the design and development of CMOS image sensor products.  These are complex semiconductor products that require the very best talented technical contributors  to drive innovation
What you could be doing during your work placement
There are opportunities to work on analogue, digital, verification, implementation and modelling semiconductor  design work as part of our image sensor product design teams located in Bracknell, Berkshire.  You will work on our exciting next generation image sensor product developments required for the autonomous electric vehicles of the future or high speed machine vision inspection applications.
Meet one of our UKESF Scholars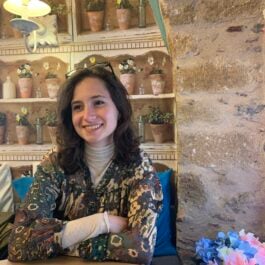 University:
Imperial College London
Degree Course:
MEng Electrical and Electronic Engineering
What appeals to me about Electronics
Electronics is an extremely wide field that affects everyday life in countless ways. I find it fascinating how many applications it has and where it can be found. Studying electronics opens numerous doors in various aspects of the electronics industry in cutting edge fields. It is also a very rapidly growing discipline, that becomes more and more important in our increasingly digital and connected world.
Why I chose onsemi
I was very intrigued after reading about the various applications of onsemi's products on medical and particularly automotive applications, such as IC chips used in cameras for cars. I wanted to learn more about IC design, and particularly analogue electronics, which is also the field onsemi offered me to work on during the summer, and hence I was excited and honored to accept.
My placement and its value
I have had three experiences working at onsemi during my degree. During my first year, I worked on designing a CMOS op-amp which had to meet a set of specification requirements. I learned how to use CAD tools, specifically Cadence Design Environment, and Virtuoso, a powerful industry-standard software for schematic capture, simulation, and parasitic extraction for analogue verification. The subject required material further than what I had learnt during my first year at university, so further investigation on Analogue IC design was necessary.
During my second year I tackled a project of different nature, investigating the use of SystemVerilog for analogue verification and increase of simulation speed. I learned the technique of Real Number Modelling, to devise a nettype that could simulate the current and voltage in a circuit net as real numbers, contrary to the numerical solutions followed by an analogue simulator.
Finally, onsemi hosted my 6-month industrial placement, which is a compulsory part of my degree. The extended timeframe allowed for much deeper investigations, as well as a larger variety of projects. I started by the design of an LDO (low dropout regulator) for a PLL (phase lock loop), and then continued with designing a bandgap reference circuit for the power monitor of an upcoming chip. This was the first time my work went directly into a scheduled product, which was very exciting!
All these experiences were a really valuable introduction to the electronics industry, and illustrated the real-life applications of the theory I had learned at university, while helping me hone skills such as communication skills and time management "
My interests
I am a creative person, I enjoy music and dance – I have been playing the cello for over 10 years, had theoretical music classes, joined orchestras, and I have reached a semi-professional Latin dancing level. I also enjoy reading most types of fiction and literature, particularly sci-fi and mysteries, as well as classics.
Meet one of our Engineers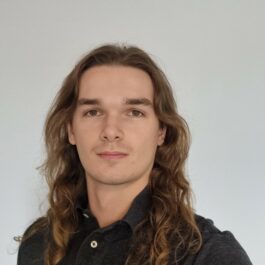 Why I chose to study and work in Electronics
Some of the first games I ever played were puzzle games. As a child they were educational to improve maths, English or critical thinking. As I got older, I progressed into Minesweeper and other games.
While I do not play logic games often, they remain among my favourites: Sudoku and Minesweeper have always been satisfying to me because you fill in a grid of unknowns based on a set of very basic rules. In many ways, electronics is the same. The rules of design behind so many of the devices we use everyday share similarly simple roots but result in large and complex parts that can achieve so many things. I wanted to learn more about how this is done, and how I could get involved in it in the future.  These were key drivers behind my internship with onsemi.
My time with onsemi
I first discovered onsemi through the UKESF scholarship scheme and, shortly afterwards, applied for an internship. I didn't really know much about what the company did, but the profile made it clear that there were opportunities for people interested in many aspects of ASIC design. I was lucky enough to be invited for an interview and the people who interviewed me were friendly and helped me relax when I was feeling nervous. I spent my time with the team learning about the design of image sensors, running simulations, and creating a test environment using UVM to verify a module.
As of writing this, I have been with the team for nearly two years as a graduate employee. I have worked as a team member with both the Digital Design and Verification teams: during this time I have been supported in learning new techniques for making efficient designs and new tools; debugging and analysing designs. I have learnt new languages and flows for writing scripts, as well as running simulations. I have written new tests and measured and improved new areas of coverage. I have received support through opportunities to design new implementations of blocks and algorithms. Throughout all this, I have seen the team's consistent drive for continuous improvement and innovation to produce the best products they can.
What I enjoy outside work
When I am not at work, I am to be found either reading a book or rock climbing.