The Renesas Award for Female Undergraduates is a collaboration between Renesas (formerly Dialog) and the UKESF. The Award supports females who are commencing the first year of their undergraduate studies on Electronics-related degree courses at leading UK universities with a bursary, a paid summer work placement and student membership of WES.
In this blog post we hear from the 2021 recipients of the Award about their motivations, their work placement experience and their advice for other women considering a career in Electronics.
Bhavya
Imperial College London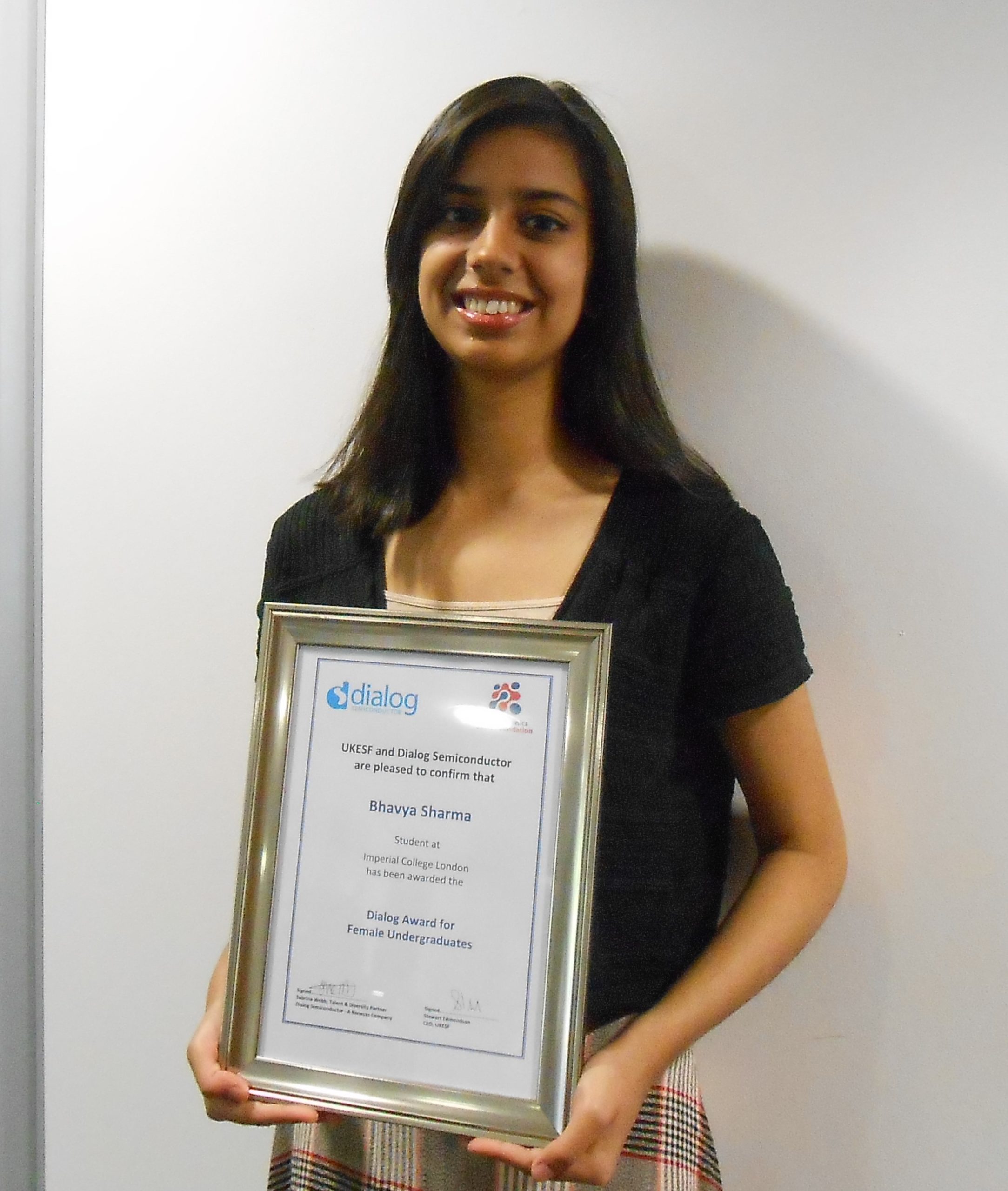 Technology is an integral part of our world – it is everywhere – in our smartphones to smart homes. But how does it actually work? How is it that devices consisting of just electrical signals at their base, are able to disrupt, connect and transform our lives?
This curiosity brought me to study Electronic and Information Engineering at Imperial College London. Having completed the first year, I have enjoyed putting into practice the theoretical concepts learnt over the year into a hands-on project; building a Moon rover. I would describe myself as a creative person at heart and combining creativity and technical knowhow is what enables innovation.
The Renesas Award means a lot to me – it has not only boosted my confidence to pursue Electronics, but also provided an invaluable opportunity to gain a first-hand insight to the industry. Thanks to the process technology team at Renesas, I've had a fabulous time gaining a detailed overview of all the different parts and processes to semiconductor technology.
We often hear that Engineering and Electronics are 'male-dominated' professions. Whilst it is important to acknowledge the imbalanced ratio, we need to change the narrative. We must shine the spotlight on the fantastic female engineers who are already making their mark in the field. Representation makes a big difference. Being able to visualise yourself thriving in a profession, really motivates you to pursue it and that's what we need to focus on.
Be curious. Be confident. Be courageous. Follow your curiosity to explore different avenues and opportunities because the more you do, the more you'll learn. Confidence is a game changer, so believe in yourself. And when it comes to courage – don't be afraid of the challenge. Overcoming something difficult, ultimately, only makes you better.
Indira
Imperial College London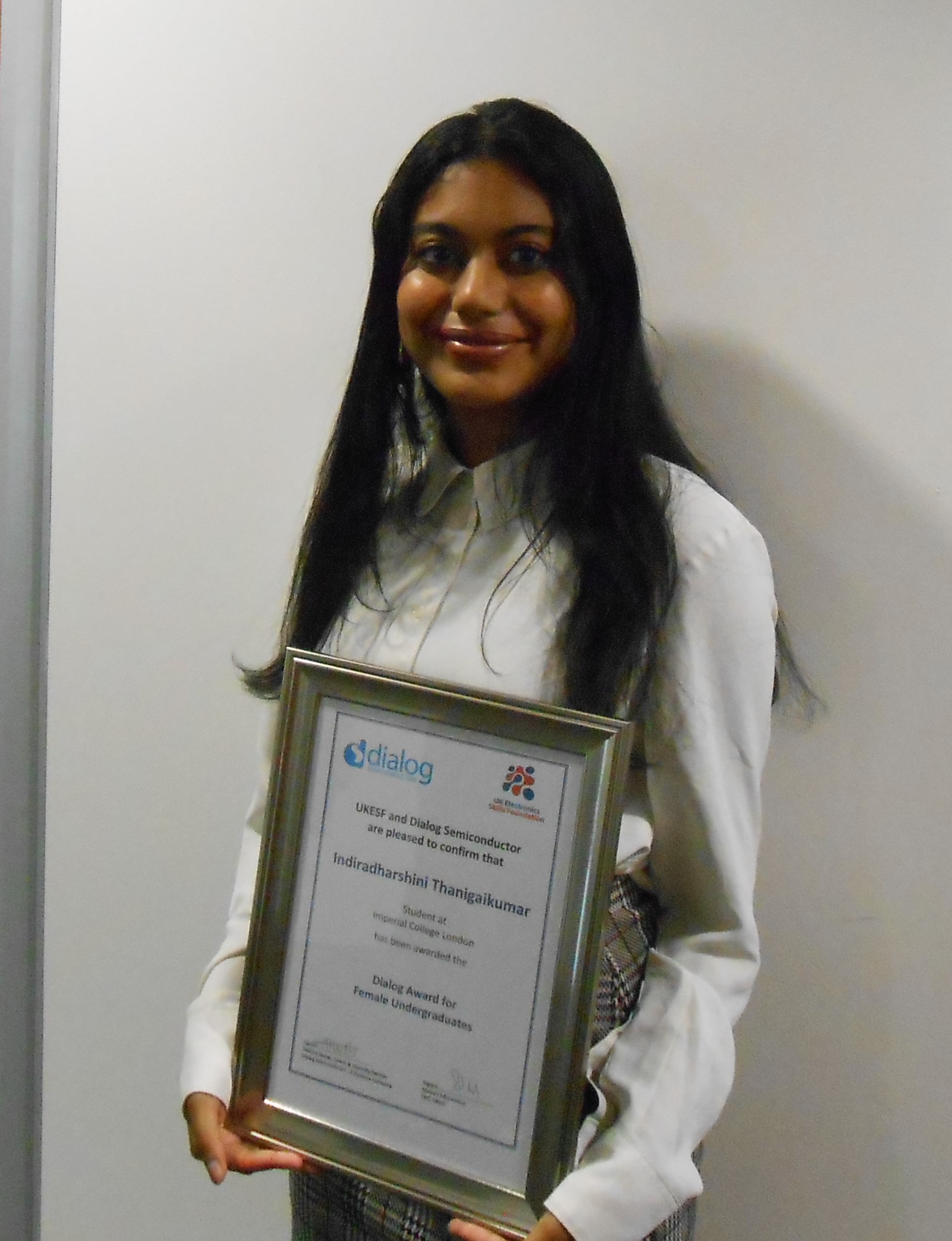 I really enjoy problem solving, innovating and working in a dynamic fast-paced environment where I am being challenged every day. The prospect of pioneering ground-breaking technology which has the potential to transform the way we live is something that really excites me about Electronics.
The opportunities that the Award has given me are extremely significant in helping me navigate my interests, gain a deeper understanding of the processes in the field and most importantly establish a sense of belonging in my chosen field. During my placement I felt like I was in a space where my questions and contributions were valued, which really made me feel a lot more confident. It feels great to be acknowledged and I am so appreciative to everyone who made this award possible.
I was fortunate to work in the Process technology group where we conducted a project in VLSI technology. I have learned how to analyse and evaluate process design kits. I really enjoyed using Cadence/Virtuoso tools to make various structures such as a CMOS inverter. Visualising the design hierarchies really helped build an in-depth understanding of the material.
A career in Electronics is both dynamic and rewarding. There are many opportunities for women available in Electronics and it is definitely something to be passionate about. My advice would be to be confident in yourself and your abilities.
---