I went in with very high hopes for the workshop, yet my expectations were easily exceeded
A key part of our award-winning Scholarship Scheme is the annual residential Scholar Workshop.  This year, we brought together scholars from 18 different universities who had completed work placements, during the summer, at 37 different employers. It was another really successful workshop and the feedback testifies to this.
Just a really valuable networking opportunity and I enjoyed meeting other electronic engineers
It's an immersive experience and we try to cram as much as possible into the four-day residential course, held this year in glorious weather at York University.  We pack the Workshop with engaging presentations from expert speakers, interactive activities and lively discussion.  Over the years, we've refined the programme content to ensure we support the students' professional and personal development ahead of their final year of study. Throughout the four days, participants also benefitted from the chance to socialise, get to know their peers from different universities and to attend a formal dinner together on the final evening
I really enjoyed the workshop because it focused on both professional and personal development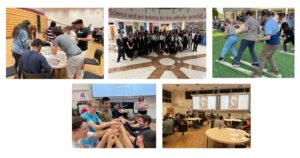 I always find it a real pleasure and genuine privilege to spend the week with our scholars.  Hearing about their experiences both at university and during the work placements is very interesting and it so rewarding to see their progress.  They are amazing young people, eager to learn and receptive to new ideas, who will all make fantastic engineers.  They are the future of Electronic Engineering and semiconductors in the UK.
I had a great week, learnt and grew so much. Thank you to all the UKESF team for putting this event on!
If you're an employer and would like to find out how your company can benefit from connecting with a UKESF Scholar in 2023/24, then you can find out more here, or email me directly – [email protected]      
 Stewart Edmondson, CEO UKESF 
---