"With Dialog's generous support, we are encouraging the country's brightest female engineering prospects to choose Electronics for their university studies."
Stew Edmondson, UKESF CEO
The Dialog Award for Female Undergraduates is a collaboration between Dialog Semiconductor and the UKESF. It supports a number of female undergraduates who are commencing the first year of their studies on Electronics-related degree courses at leading UK universities.
Each year two female recipients of this award are supported with a bursary, a paid summer work placement at Dialog, and a student membership of Women's Engineering Society (WES) for the duration of their degree.
2021's recipients of the Dialog Award for Female Undergraduates are Lubabah Hossain and Emma Onah. Lubabah is studying General Engineering at Durham University, and Emma is studying Engineering at the University of Cambridge.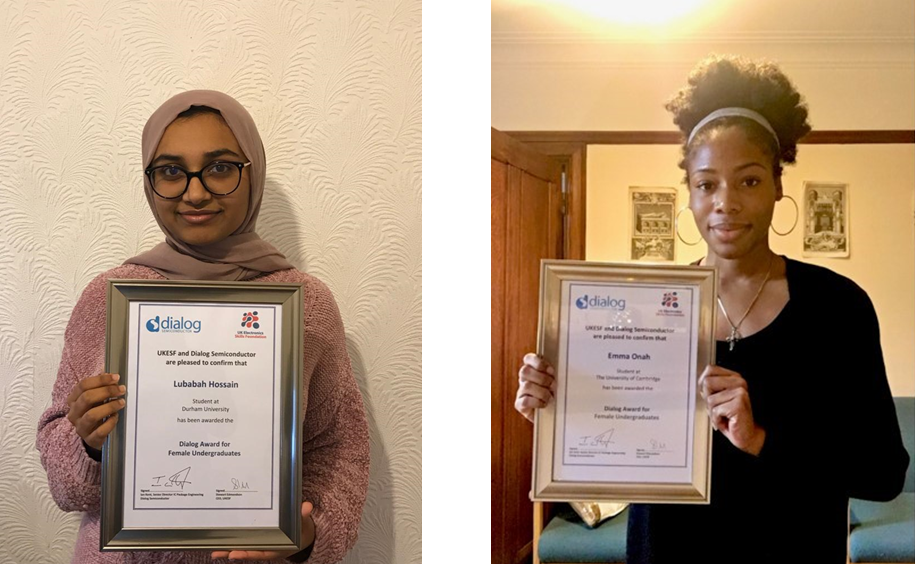 Lubabah & Emma
Lubabah said, "What I like about electronics is that it is integrated into almost every part of our modern-day lives; developments and progression we can make for society, using this field of study, are practically limitless. My goal with this degree is to be able to fruition any ideas that come to mind and execute them, be it by writing some code or producing a physical product.

"Wanting to go into a profession that is very male-dominated as well as studying at a competitive university, it is very easy to develop feelings of imposter syndrome. This award, however, has instilled me with a lot of confidence in myself, which I imagine will only be further reinforced when doing my placement over the summer with Dialog Semiconductor. The placement will also allow me to gain further clarity on what sort of field and position I would like to work at upon graduating, which to me feels like a vital insight."
Emma added, "My name is Emma Onah, and I am a first year undergraduate at the University of Cambridge, studying Engineering. I am also the owner and editor of my own tech blog, www.craetif.blogspot.com. This award means so much to me, especially as it will underpin my career as an electronic engineer, and provide me with deeper insight into this field. In a career where female representation is scarce, it feels so good to be recognised. I cannot wait to start my internship at Dialog Semiconductor this summer, and I am extremely grateful to be in receipt of this award."
Both students will complete a work placement at Dialog Semiconductor this summer. Congratulations Lubabah and Emma!
The 2020 recipients of this award, Carol Kwok and Husna Fathiah Zulkarnain, have been unable to complete their placements at Dialog due to the Coronavirus pandemic, but will do so this summer. However, both girls have continued their first year studies at Imperial College, London.
"It was an honour to be awarded this award and offered a summer placement in Dialog Electronics. Although due to the pandemic, placement was not being able to happen this year, I am looking forward to the experience that I will gain in it.

"Studying in electronic engineering is always my passion, and my study at Imperial College strengthens and enhances my knowledge in this subject, varying from circuits filter to Verilog coding.

"It has also been a stereotype that male is taking up the majority in the engineering field. And this award allows me to build a stronger identity as a female engineer, and raise awareness of the power of the female in engineering. I would like to continue to pursue my interest in electronic engineering, especially in computer architecture."
Carol Kwok, Imperial College, Dialog Award recipient 2020
"I am beyond honoured to be awarded the highly-coveted Dialog Award for Female Undergraduate 2019. Coming from a country where women rarely pursue engineering due to stereotypes, there are times where I am scared opportunities will be dismissed from me. This award gives me an assurance that there is always space in the industry for anybody of any background to pursue their dreams. Since I received the award, I have been pursuing my studies in Imperial College London and I am grateful that I was given a chance to study Electrical and Electronic Engineering there and meet so many talented people. There are days that are harder than the others undeniably, however the prospect of understanding the subject is more than enough to fuel my passion. The fluidity and expansion of electronics innovation mesmerized me as it proves that humans' intelligence increases with more challenges. For instance, troubleshooting seems like a small word, however I feel content when I manage to solve a problem by investigating the source of the disturbance. This kind of knowledge is not only essential for electronics, it certainly relates to our life. I believe that electronics engineering correlates to our real-life ethics and that is how I grow my love for it.

"Due to the ongoing pandemic, I have deferred my internship to summer of 2021 and I really look forward to interning with Dialog Semiconductor and applying my skills in a thriving electronics company. I believe that the road to mastering electronics will be long and tedious, especially as it is currently a male-dominated industry, but when something is important enough, we will strive to do it – even if the odds are not in our favour. I hope that I can be a source of inspiration for any undergraduates in the technological field to study electronics passionately. I have four sisters that are personally looking up to me, and with millions of girls globally, certainly the importance of doing the best that I can is paramount".
Husna Fathiah Zulkarnain, Imperial College, Dialog Award recipient 2020
Applications for the award will open at the beginning of June 2021– click HERE for full details, including eligibility and how to apply.

---