Despite all the disruption caused by the pandemic, we were able to run the 2020 RF Engineering & Communications Competition, and we were delighted to receive many more entries than we anticipated.
This annual competition, run in partnership with the Radio Communications Foundation (RCF) and with support from Leonardo, highlights the work of students at UKESF partner universities who are focusing on RF engineering and communications in their final year. Entrants are required to submit a poster summarising their major individual project.
The first place prize of £1,000 was awarded to Matthew Bridges for his outstanding project: '8×8 MIMO Antenna Design for 5G Sub 6GHz Smartphone Applications'; a unanimous decision by the judges. Matthew is a UKESF Scholar who studies at the University of Surrey and is sponsored by SEA.
Matt said, "I was extremely excited to win the RF Engineering & Communications Competition and very thankful to the organisers and judges of this event!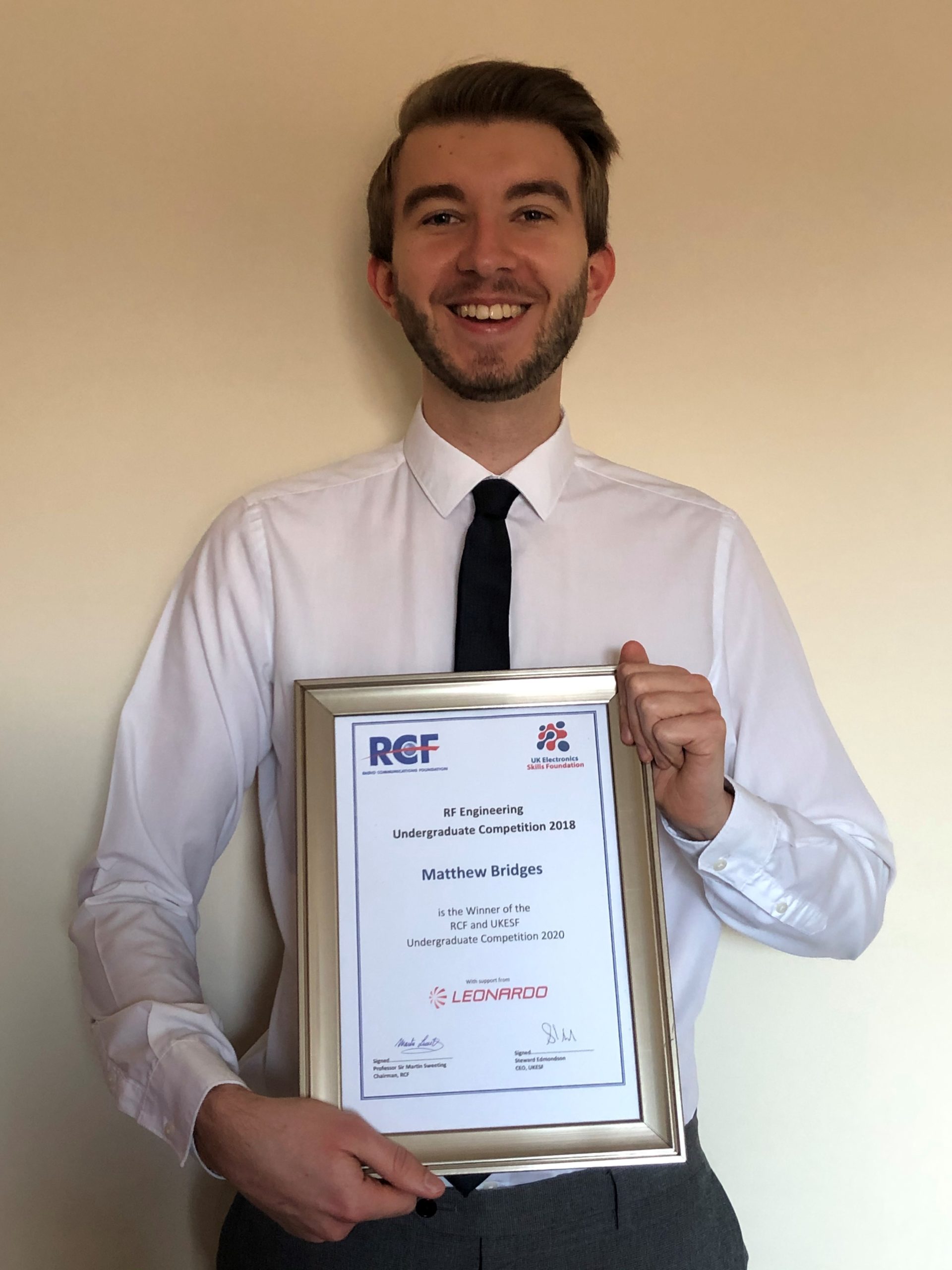 "When I first spoke to my supervisor about this project, I would never have imagined the opportunities that would come from it. Getting the chance to learn about new innovative technologies that are shaping the future of 5G communications was exactly why I chose to do electronic engineering at the University of Surrey. Taking this project from the requirements all the way to validating the prototyped measured results against those obtained in simulation and modelling made it the highlight of my degree.
"As a UKESF scholar, I have seen the help and support that UKESF provides to electronic engineers in their degree. This competition is another example of what this Foundation offers and for that, I am enormously grateful. Receiving these opportunities and the scholarship during my degree only furthers my enthusiasm to pursue a career in this field which I know I will find both really interesting and rewarding. I would also like to thank my supervisors for the support they gave me and my head of department for the encouragement to enter this competition."
Dr David Carey, Head of Department at Surrey, commented: "Surrey is the leading university for 5G and next generation communication systems and the Department has always prided itself on being able to expose our students to cutting edge research topics as part of their degree."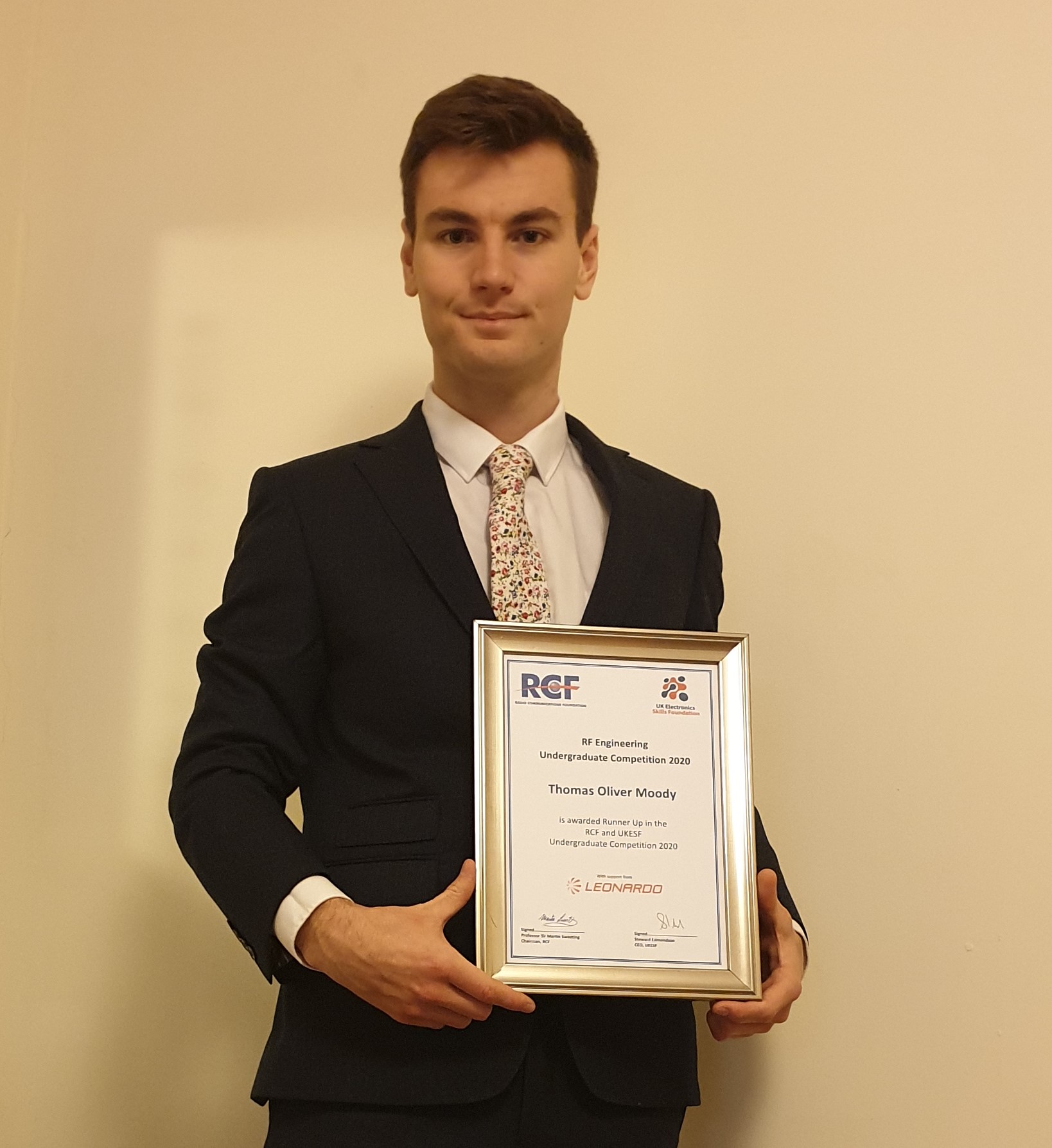 The two runners-up each received £500: Tom Moody from University of Southampton, another UKESF Scholar who is sponsored by Meggitt, entered his project 'Frequency Reconfigurable Patch Antennas'.
Tom said, "I love working and studying in the field of RF and I am thrilled my work has been recognised by the UKESF and RCF."
Jessica Abbey Kelly, studying at Loughborough University, entered her project on 'The design and analysis of low pass stepped impedance filters with multi-material and 3D substrates'.
Jessica said, "I am grateful for the recognition of my hard work and the support of my supervisor and his team that has resulted in expanding the possibilities for use of additive manufacturing in RF devices. I found the process of submitting my work straightforward, an extension of the university project requirements. It is affirming to know that despite many events and awards being cancelled this year, this competition ran in a similar format to previous years, with more partner universities being brought on board.
"In RF engineering I have found that there are few female role models, this award increases the visibility of women across engineering, who are equally able to achieve in this field as men."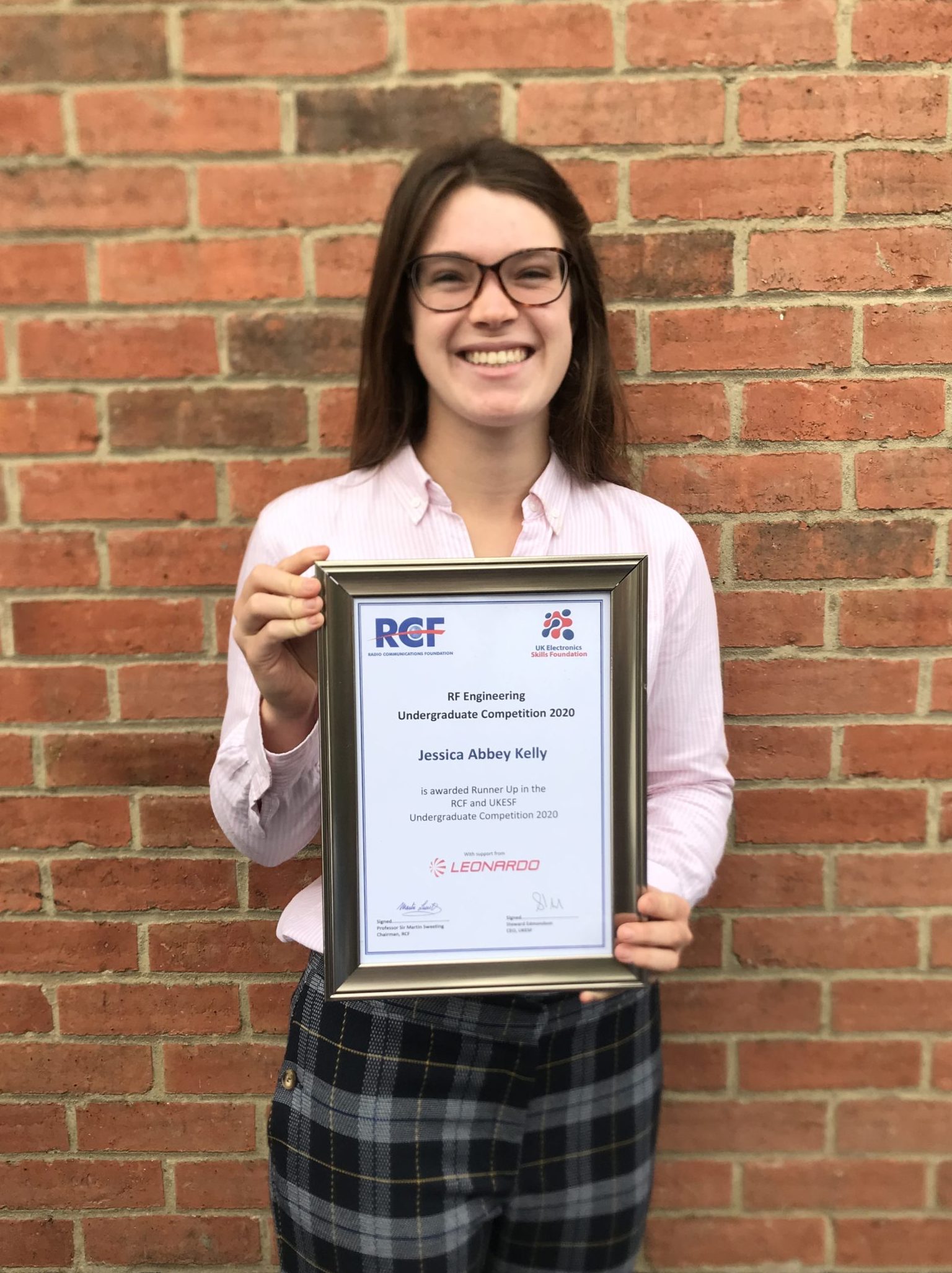 Jessica's Project Supervisor, Will Whittow, Professor of Radiofrequency Materials at Loughborough University said, "Jess worked exceptionally hard all year. She integrated some complex RF concepts with excellent fabrication/measurement skills. To achieve as much as she did in a year when COVID closed the labs is very impressive. She basically completed her project two months early. We will try to submit her work as a conference paper in due course. She thoroughly deserves her award."
UKESF CEO Stew Edmondson commented, "We were delighted to receive so many entries into this competition in such a disrupted year for studies. The standard of the entries seems to be improving year on year. Congratulations to our three finalists, I look forward to seeing them all go on to achieve great things in the future."
Many thanks to our judging panel: Trevor Gill of RCF, Dr Merv Haynes of Leonardo and Dr James Hopgood from University of Edinburgh.
We are still hoping to hold a virtual prize giving ceremony in the New Year.
---