Job Title:
Graduate Engineer
Why Meteor?
The ability to get involved in important and interesting projects is something that I looked forward to having graduated. Working in a smaller company is a great place to learn about everything, and get involved.
Meteor has a great work atmosphere, it's in a nice office just south of Cambridge and has a great work campus (free ice cream), and everyone is really friendly. There's a lot of out of office opportunities, a company wide trip to Woburn for a weekend and opportunuities to travel for work as well.
What do you do?
Having joined Meteor in August I've been involved in a lot of new development for addition of new features and functions on existing print heads, as well as developing FPGA code for new printheads. Since joining I've learnt VHDL, as well as some more practical aspects of developing hardware. There's a broad range of work that can be done and a lot of responsibility, with the ability to work in any aspect from software/firmware to board design and even get involved in meeting customers and testing on their rigs.
View other engineer profiles
Rula
Junior Front-End Design Engineer, Blu Wireless
I never felt being a woman has disadvantaged me or held me back to become a Telecommunication Engineer. I am respected for my education, my contribution at work, and the value I add to the company as a junior engineer just as much as my male counterparts.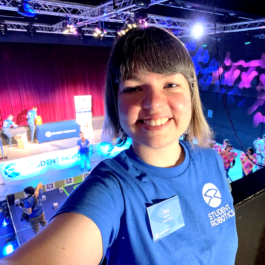 Oana
Software Engineer
When I first met the team during my interview, I knew I'd made the right choice. They made me feel welcome, and I was already laughing with them while learning so much!
Max
Graduate Engineer, ARM
I currently work at ARM as a Graduate Engineer, working in the CPU Design and Verification team in Cambridge.