The UKESF is pleased to announce the finalists of the 2020 Automotive Electronics Competition, run in partnership with AESIN and with generous support from UltraSoC (now acquired by Siemens): winner Suzanne Candanedo (Warwick) and runner-up Oana Lazar (Southampton).
Entrants from partner universities were asked to turn their thoughts to the future of cyber security for connected and autonomous vehicles and to write a short 'think piece'. UKESF CEO Stew Edmondson said, "This is the second year that we have run this competition. I am very grateful for UltraSoC's sponsorship and support. We received more entries this time, which is really heartening given all the disruption caused by the COVID-19 pandemic. The winners produced thoroughly readable and thought provoking pieces; well done!"
Winner Suzanne Candanedo, University of Warwick, received £1,000. She said, "My parents have always instilled in me to show curiosity and question things; and this blog was a good outlet. It was fun sharing my thoughts and reflections on the future of cybersecurity in autonomous vehicles. Hopefully, those who read it found themselves reflecting on something new too! This award was a fantastic way to end my undergraduate career and culmination of my aggregated experiences. So I would like to finish by thanking my professors, coursemates, friends, and family."
Read Suzanne's entry here.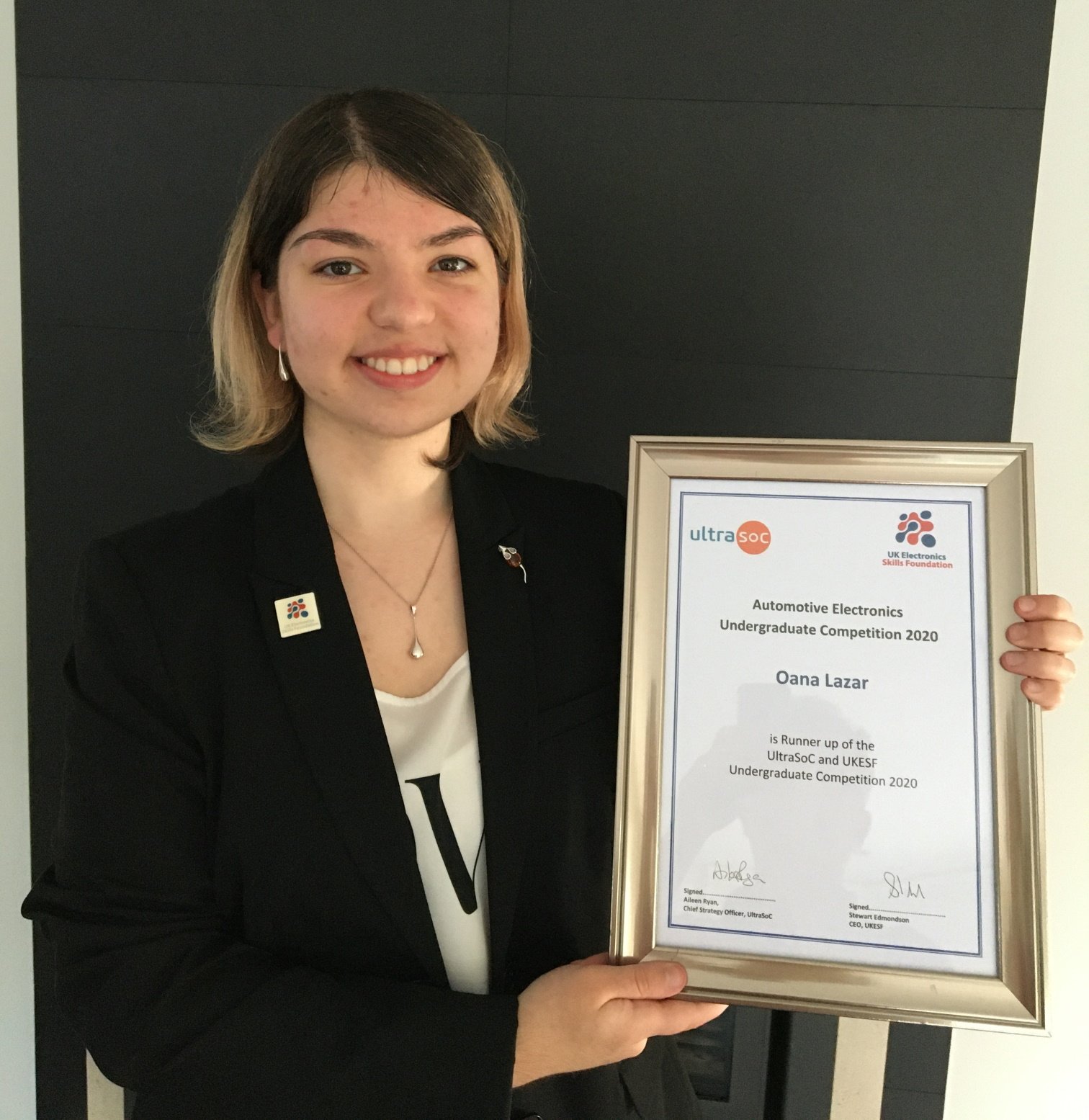 Runner-up Oana Lazar (UKESF Scholar, sponsored by UltraSoC), University of Southampton, received £500. She said, "Automotive electronics has grown from a futuristic concept to a key field of engineering in just a few short years, and the UKESF Automotive Electronics Competition has inspired me to follow this exciting development! Through lectures by the IET, webinars by the IEEE, and projects such as UltraSoC's Secure-CAV, I have been learning how this novel industry is changing almost all aspects of engineering, and especially software safety through standards such as MISRA. It is an incredible honour to have been able to take a small part in this revolution by being selected as this competition's finalist, so I would like to give my warmest thanks to the UKESF, AESIN, and UltraSoC for offering me this amazing opportunity, and to Professor Geoff Merrett for encouraging me to apply. Finally, I want to thank my late boyfriend Dan Colmer for introducing me to the world of cars and sharing his incredible enthusiasm with me, I hope he would have been proud of how far I have come."
Read Oana's entry here.
Aileen Ryan, Chief Strategy Officer, UltraSoC, said, "Once again I've been really impressed not just with the number but also the quality of the entries to this year's competition. It's great to know that the emerging generation of engineers show such awareness and insight into the issues facing the automotive industry, and the socio-economic impact of our activities as engineers. I'd like to offer a big thank you to all of the entrants, who had clearly put a great deal of time, energy and thought into their submissions; also to the UKESF for their continuing commitment to developing our skills base in the UK. And finally, say 'congratulations' to Suzanne Candanedo and Oana Lazar, whose contributions came out top in such a high-quality field of entrants."
---