Three UKESF scholars from the University of Edinburgh have gone above and beyond the outreach obligations of their scholarships by developing and running their own hands-on electronics workshop, including building a custom-designed Arduino-based kit and writing supporting documents. Ben, Justas and Kasper wanted to show how easy and affordable it is to start electronics and share their passion for the subject in a fun and interactive way.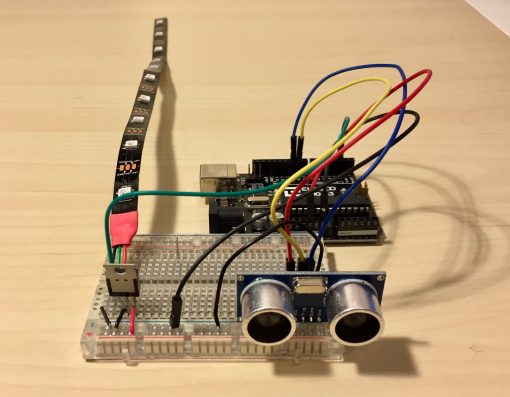 The UKESF was delighted to provide funding for the project, which enabled the scholars to purchase enough hardware to take the kit into local schools and run the workshop with students in Scottish Years 4–6 (Key Stages 4 and 5). This included a demonstration session at Earlston High School and four 2-hour workshops at Trinity Academy, which gave the scholars the chance to pilot the project and fine-tune the details. Information on the kit itself can be found in their guest blog post.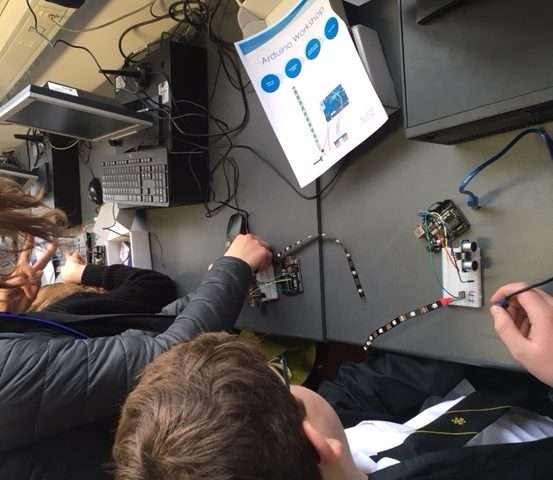 Feedback from the schools has been extremely positive and the scholars have already been asked to return. Callum MacLellan, Curriculum Leader of Science, Trinity Academy, said, "Pupils enjoyed the approach to constructing the circuits which allowed them to get something going within a reasonable amount of time. They then had fun exploring how to customise their circuits. The extension sheet that the team produced helped to make this exploratory phase more focused, especially for younger classes. There was a good balance between exposition and activity and the classes all enjoyed Kasper's obvious enthusiasm for his 'disco boxes'."
The scholars have written a guest blog post for us about their project; read some snippets about their experiences below:
Ben: "The students were encouraged to use their creativity – especially in the additional task sheet – which helped them engage with the task."
Justas: "Probably the most rewarding part of this initiative was seeing the positive reactions, excitement and interest we managed to spark in numerous young people."
Kasper: "Coming into contact with practical electronics in high school is something I wish I would have had the chance to experience and I am proud to be able to provide this opportunity for others."
Stew Edmondson, CEO, UKESF, said, "We know that providing children with 'hands-on' experiences works really well in promoting their interest in Electronics. At the UKESF, we place a great focus on getting our undergraduate scholars to help us inspire the next generation. This project is a fantastic example, from three inspirational students, of how the UKESF can make a real difference. Really well done to Ben, Justas and Kasper."
Looking ahead, the graduating scholars are planning to hand custodianship of the project over to ongoing Edinburgh UKESF scholars. The UKESF will continue to support the project by providing guidance and financial backing, with the intention of making it available as a resource to other scholars in the future.
---