The UKESF has just published its Annual Review for 2019/20 – read it HERE.
"This has been a difficult period but our whole team has responded magnificently; I have been heartened by the support that we have continued to receive from our partners from both industry and higher education. In particular, I would like to thank our volunteer Trustees, who have provided me with invaluable advice and support. As a result, I am pleased to say that we have been able to 'steady the ship' and can now look ahead to 2020/21 with a fair degree of confidence. This is important, as our work is now even more vital as the UK emerges from the crisis with a renewed focus on technology and innovation."
Stew Edmondson, CEO, UKESF
Highlights include:
Over £100,000 has been raised from a number of donors to scale up our "Electronics Everywhere" project, with 300 schools expected to receive resources (all manufactured in the UK). The project also received endorsement from the Royal Academy of Engineering.
The number of UKESF Scholarships awarded to female Electronics undergraduates rose to 28%, a 12% increase on the previous academic year. This is very welcome news, as we work to improve the gender balance in Electronics.
The results of a survey sent to our scholarship-sponsoring company partners showed that employer satisfaction remains exceptionally high, with 94%  of respondants praising the quality of applicants for the UKESF Scheme and all stating that they would recommend us to another company.
The year at a glance: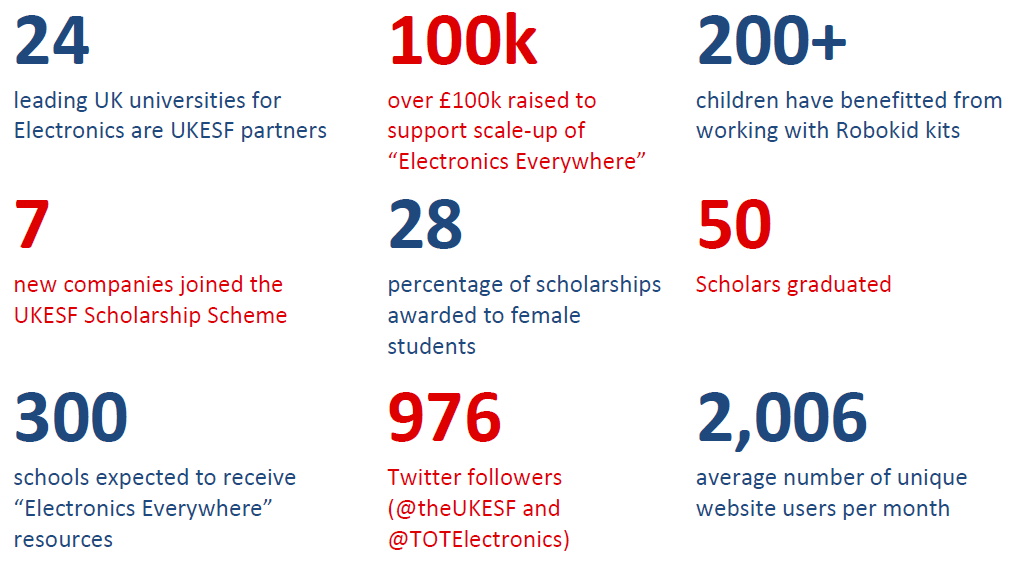 Click HERE to read the full Annual Review.
---