Socionext is a leading provider of next generation System-on-Chip solutions. Socionext
Placement Location
Maidenhead, Berkshire
Type of Placements Offered
• Summer placements • 12-month placements • 6-month MEng placements
Restrictions/Notes
(1) 12-month placements preferred; (2) Must include one longer placement
2023/24 Scholarships
To be confirmed
Who we are and what we do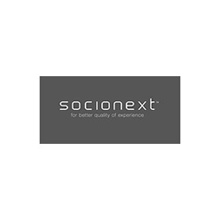 Socionext is a leading provider of next generation System-on-Chip (SoC) solutions. Born from the system LSI businesses of Fujitsu and Panasonic, Socionext launched globally in March 2015. Embracing open innovation to enable better technologies for the society of the future, Socionext delivers SoCs specifically targeting imaging and optical network applications, as well as Custom SoC solutions for a range of other markets including Automotive and Industrial applications.
What you could be doing during your work placement
Placements are with the Network SoC business unit, based in Maidenhead, Berkshire. A fundamental aspect of the placement experience is that students work as an integral member of the analogue/mixed-signal design team, and on real projects. Full training in the latest design, layout and simulation tools is provided. Some exposure to evaluation of prototype devices, using leading-edge test equipment, may also be possible.
University:
Cardiff University
Degree Course:
MEng Electrical & Electronic Engineering
What appeals to you about Electronics?
From a young age I've always had an interest in computers, playing video games and designing websites. I was curious as to how computers functioned, so I then started some research on how desktop computers are made, taking them apart and rebuilding them. When it came to selecting my GCSEs, Electronics was an available option, and since then Electronics has always been part of my education (I self-taught the A-level), and I've always thoroughly enjoyed it.
Why did you want a scholarship with Socionext?
Socionext was a company that I hadn't heard very much about prior to the UKESF, and when conducting research before applying and the interview, there wasn't a great deal of information online. However, when I was offered a placement with Socionext I accepted, even though I'd previously been reluctant to take a year out of my studies. The interview day was well structured with many applicants in attendance. The presentations were given by a scholar who was currently working there, as well as team members and managers, and gave me a great insight to the company, as well as the working environment within the office.
What type of work have you been involved with during your placement?
During my placement I worked within the applications team, designing two power supply boards, which formed part of a design kit that was sent out to customers. I've picked up many new skills through completing my placement and most import to me was the feeling that I had made a positive contribution to the applications team.
What are your interests outside of work?
Outside of my degree, I enjoy playing football for the engineering department at university, as well as a local league team back home. I also watch football amongst other sports, making the most out of Cardiff being promoted to the premier league, buying a season ticket to watch this year's relegation battle. Whenever possible I enjoy travelling and seeing new places.