"Runna is a london-based tech startup changing the way runners train for 5ks, Marathons and more." Runna
Placement Location
London
Type of Placements Offered
• Summer placements • 12-month and 6-month MEng placements placements may also be offered to the right candidate
Restrictions/Notes
(1) Students on Computer Science courses only (or must be able to demonstrate excellent programming skills); (2) No first year students; (3) Students must have permanent right to work in the UK after graduation
2023/24 Scholarships
Multiple new scholarships
Who we are and what we do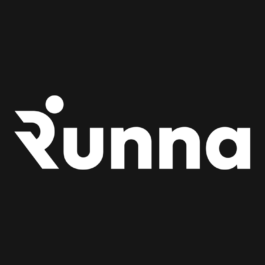 Runna was founded in 2020 by running enthusiasts Dom Maskell and Ben Parker. Dom was at McKinsey & Company, whilst Ben was a professional running coach, when they became frustrated at the help available to the millions of runners worldwide who wanted to train for anything from their first 5k to an ultramarathon. The only options available were free, generic PDF-based plans which weren't effective, running coaches which are inaccessible and unaffordable to most as well as generic running apps such as Nike Run Club, Runkeeper and Map My Run.
We help everyday runners become outstanding by providing world-class training, coaching and community for everyone, whether you're improving your 5k time or training for your first marathon. To date we have built iOS, Android and Apple watch apps that help people achieve their goals by coaching them through the full journey and syncing to their favourite fitness devices.
We launched our subscription-based app in March 2022 and have seen immediate and consistent subscriber growth since, with hundreds of thousands of users signing up to our app, in over 180 countries, in just 12 months. The metrics that we've seen since launching are a clear demonstration of the need for such an app and a testament to the team that we are lucky to have.
We're now looking ahead to the future and the people that want to help us build and scale Runna. We want to reach millions of subscribers in the next 5 years and be the go-to training platform for any runner. Now is a magical time to join, we're still small, and everyone makes a fundamental difference.
What you could be doing during your work placement
We are looking for talented, creative and positive team players to join Runna, to help deliver new features for our iOS, Android and Apple watch applications and third-party integrations (Garmin, Strava, Coros, Fitbit Suuntu etc). You will work closely with our founders and CTO to help shape the future of Runna who will be there to support you all the way along this exciting journey.
As an Intern Software Engineer, your role will include:
Architect, build, test and deliver new features across the full stack
Work with the Product team to identify the most suitable solution for the best customer experience
Be mentored by our Senior Engineers who will be on hand to help when you need help on technical matters
Help us operate more efficiently, by building and maintaining our developer tooling and CI/CD pipeline
We rotate the responsibility of releases among team members, giving each person the opportunity to lead the process and deploy changes to production.
Become a 'Ninja' for a week! Like the release manager, we also rotate a role called 'Ninja'. In this role, you will work closely with our customer service team, chatting with our users and helping them resolve technical issues.