We believe in the power of ingenuity to build a positive human future in a technology-driven world. As strategies, technologies and innovation collide, we create opportunity from complexity.
Placement Location
Cambridge
Type of Placements Offered
• Summer placements only
Restrictions/Notes
(1) Students must be in the penultimate year of their degree; (2) Requires interest in Electronic Design and Consultancy
2023/24 Scholarships
We are not offering any new scholarships this year
Who we are and what we do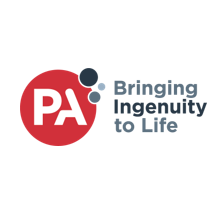 Who we are and what we do
PA Consulting believe in the power of ingenuity to build a positive human future in a technology-driven world. As strategies, technologies and innovation collide, we create opportunity from complexity. Our diverse teams of experts combine innovative thinking and breakthrough use of technologies to progress further, faster. Our clients adapt and transform, and together we achieve enduring results.
An innovation and transformation consultancy, we are over 3,200 specialists in consumer, defence and security, energy and utilities, financial services, government, health and life sciences, manufacturing, and transport. Our people are strategists, innovators, designers, consultants, digital experts, scientists, engineers and technologists. We operate globally from offices across the UK, US, Europe, and the Nordics.
We believe that diversity makes us a stronger firm and look to employ people with different ideas, styles and skillsets. This diversity stimulates a rich, creative environment – one in which our people develop, and our clients enjoy enduring results. We're committed to recruiting, promoting and rewarding our people solely based on their ability to contribute to PA's goals, without regard to their sex, race, disability, religion, national origin, ethnicity, sexual orientation, age or marital status.
What you could be doing during your work placement
The role will involve working closely with your colleagues and our clients on a wide range of assignments. You will be an important part of developing creative technical solutions for break-out products and manufacturing processes, contributing your expertise in electronic engineering. Your role may range from creating a novel wireless connected product, developing a high performance data processor to designing an innovative medical device. Our clients need us to work at the cutting edge and you will be ready to help.
For example:
Each year, seven million deaths worldwide are attributed to air pollution, with nearly 30,000 in Britain. W

e worked

 for 

Drayson

 Technologies who launched

 a new 

business

 built on a combination of web, apps and small low energy sensors

 to monitor air pollution without requiring the batteries to be charged

. 

The

 electronics team 

worked on the 

sensors 

alongside

 the client's engineers 

and

 our IT practice 

to

 create an end-to-end 

connected 

system 

in under a year

.

 To this is just one example of the constant stream of products that we design and successful deliver into the market. 

Thin electronics for wearable medical devices: We worked with a major pharmaceutical company to develop a wearable medical device with on-body communications for daily use drug delivery. By combining drug delivery and communications technology, we can help improve patient adherence and safety. The benefits included low cost design suitable for high volume manufacturing processes – 100 millions/annum, fully encapsulated and water-proof design with circuit board and battery only 1mm thick, ultra-low standby current and used novel battery chemistry. 

PA developed a bespoke LoRa radio module for a safety critical mesh network system for a UK-based SME. Our leading digital, analogue and RF electronics experts designed a functional circuit board in less than three months, including power supply, RF front end, and a bespoke printed antenna. We have also designed and implemented a mesh network protocol layer that sits above the LoRa physical links and thus allows dispersive deployment of the devices without installing cabled infrastructure in the building.
During your 10 weeks as an intern at PA, you'll learn some of what it takes to be a top-notch consultant. You'll be coached and guided by experts and have countless opportunities to broaden your experience on challenging projects and programmes. Whatever you work on, you'll be part of the team and free to build your networks, both here at PA and far beyond.
Click here to see what a summer internship at PA Consulting might look like.