Our enterprise-grade technology will connect to any orbit in space from almost any environment on Earth – with no compromise on performance. Hanwha Phasor
Placement Location
Cambridge or London
Type of Placements Offered
12-month placements; MEng placements
Restrictions/Notes
(1) Requires 12-month placement (preferred) or 6-8-month MEng placement; (2) Students must be in the penultimate year of their degree; (3) Candidates should specify which location they are applying for; (4) Requires interest in wireless communications (RF and antenna design an advantage).
2022/23 Scholarships
Multiple new scholarships
Who we are and what we do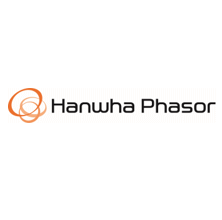 Hanwha Phasor is the original innovator in ultra-low profile, very high-performance antennas for mobile satellite communications. The focus of our activity today is the new frontier of communications on the move: commercial inflight connectivity.
Marking a radical departure from traditional parabolic reflectors, our high-performance, solid-state flat-panel technology will occupy a powerful position in the evolving satcom ecosystem.
Our own custom ASICs (application-specific integrated circuits) lie at the heart of our revolutionary antenna. However, it takes a multi-disciplinary team across electronic hardware, software, electro-mechanics, antenna design and systems to create our product. This means a rich experience of engineering across the spectrum with us.
What you could be doing during your work placement
During your placement, you could be working at either of our UK locations:
London – 
R&D, design, system prototyping, verification and test centre
You will work across electronic hardware, software, antenna, and systems teams on our ground-breaking first product release. Depending on your interests and capabilities, you may be able to rotate and gain experience in more than one team.
Project work may include:
Antenna element and feed network design and simulation
Hardware design and hands-on testing (digital, RF and analogue electronics)
Embedded software development in C
Phased array antenna simulation and algorithm development in MATLAB
Test capability development (test jig design and test automation using Python)
Cambridge – 
our ASIC team specialises in the highly demanding field of advanced, high-speed RF at millimetre wave. The centre covers the disciplines of core circuit design and layout engineering and performance characterisation
During your placement, you will:
Receive training in industry-standard tools and fundamental design concepts
Design, simulate and layout analogue circuits
See an ASIC project move from specification to the design stages and potentially through to tape-out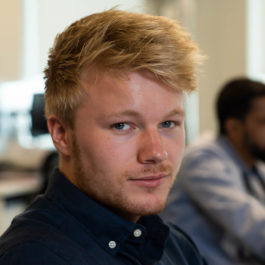 What appeals to me about Electronics?
When I was at school, I won a British Physics Olympiad (BPhO) Gold and gained a place at the BPhO Oxford University Masterclass. One of the sessions was dedicated to thinking like an engineer. That flicked a switch in terms of wanting to apply my capability more broadly. That's why I have really enjoyed the opportunity to apply Computing and Maths to the completely new and unexpected field of electronically steered phased array antenna for mobile satcom.
Why I chose Hanwha Phasor
Hanwha Phasor's Head of HR is a neighbour and knows me as a 'Mathsy' guy. She suggested I might benefit from an internship for the summer in an organisation that really runs on maths and physics. She was right. Even though much of Hanwha Phasor's work involves specialist RF electronics knowledge, I did discover a really good outlet for my maths (and computing).
My placement
I worked for the system design team, working to a stretch target. It was challenging, requiring a really good understanding of maths but with concepts that are quite specific to antennas and communications theory.
I was asked to undertake an essential exploration into the antenna's key function – satellite beam scanning and how it should work. The algorithms I have simulated use a variety of searching techniques, referencing possible modulation schemes and various noise figures. I also simulated moving targets, when an array is pitching and rolling for a range of different beam scanning rates. This has given the team valuable insight into an important metric ─ the necessity for fast beam re-pointing rates.
My systems supervisor encouraged me to play around, try things, be creative. I was surprised at the amount of freedom I was given to devise solutions. At the same time, I wasn't turned loose on a project without support. I felt the balance between independence and guidance when you needed it was just right. Additionally, the work I have been doing is of long-term, critical value and will live on in the product the company is launching in around 18 months.
Meet two of our Engineers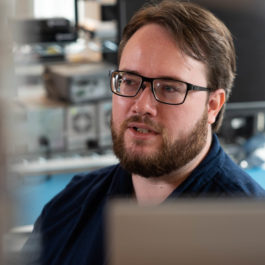 Job Title:
Lead Hardware Engineer
My career path
Like so many engineers, I started taking mechanical things apart as a kid to see how they worked, but it was the opaque nature of electronics that really intrigued me. I have worked at the bleeding edge of hardware technology on monster ASIC chips at Socionext, and my first foray into satcom through RF and digital control was 28G optical SerDes networks at Airbus. Working at Hanwha Phasor is a whole new ball game. Designing hardware for a phased array for mobile satcom, especially for aircraft, is a giant leap by anyone's standards.
Why my work gives me professional satisfaction
At Hanwha Phasor, we're not building one antenna but 4,000 on each of our transmit and receive arrays. This involves some 150 printed circuit boards, 17 of which are unique. To get the high performance we need, they've got to be orchestrated to the nanosecond.
As a digital engineer here, the joy lies in bringing all the components of a highly complex distributed system into a controlled state and working in concert.
There will be many more versions of our launch product for inflight comms – different frequencies for aero variants, plus land and maritime applications. Pioneering a new product makes all the pieces of this puzzle endlessly fascinating for me.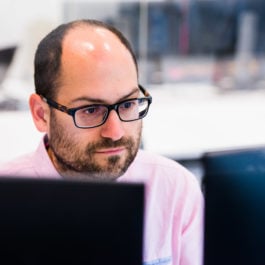 Job Title:
Analog/RF IC Design Engineer
What inspires me about Electronics
They say that physics is the science that attempts to explain how everything from atoms to planets behaves; and that mathematics is the tool to model this behaviour. On the other hand, engineering, and especially electrical and electronic engineering, uses physics and mathematics to create new things, often on which our modern society is highly dependent ─ radio, TV and the internet included. As an electronic engineering student or professional, instead of trying to just explain, or model, how, say, the earth is moving, you can get even more satisfaction by building your own AM/FM radio or designing the chip found inside the latest iPhone. Following this career path gave me the rare opportunity to make my hobby a career.
Why I chose Hanwha Phasor
Hanwha Phasor is one of the very few companies based in the UK working in the area of electronically-steered antenna arrays. These enhance the performance of wireless communication and radar systems and form the basis of the modern 5G/6G cellular or satellite networks used in a broad spectrum of applications from automotive radars to portable wireless internet. I chose Hanwha Phasor to pursue my career as a chip designer because I was impressed with the innovation and ground-breaking work of the dedicated team that follows in the footsteps of great British innovators including Alan Turing and Sir Robert Alexander Watson Watt.
Why my work gives me professional satisfaction
After six years in industry, I know that the most important elements of job satisfaction are sufficiently challenging work; and an environment that allows employees to flourish. At Hanwha Phasor, we have both. The work is so exciting that each day we feel like newborn babies seeing the world for the first time! Moreover, there is no micromanagement ─ employees are trusted and free to perform tasks without unnecessary bureaucracy. We are one big family, which embraces and offers unconditional support to each of its members.