Here at Ericsson Television we make digital television products. Ericsson Television
Placement Location
High Wycombe
Type of Placements Offered
• Summer placements • 12-month placements
Restrictions/Notes
No 4–8 month MEng placements
2023/24 Scholarships
We are not offering any new scholarships this year
Who we are and what we do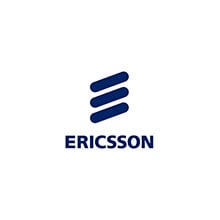 Ericsson itself is a large multi-national corporation involved in many aspects of the electronics and telecommunications industry. Ericsson Television is an integral part of this with our own sales offices worldwide, as well as R&D sites based here in the UK at Southampton and High Wycombe.
Here at Ericsson Television we make digital television products. For the last 25 years, we have been at the forefront of the technology that gets the video and audio signals that come from the camera in a studio or stadium, to your television set, PC or tablet.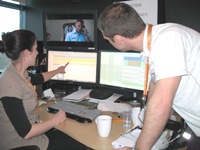 We design and develop everything from custom built state-of-the-art video processing ASICs to whole systems necessary to get the television signals to where they need to go. What this means is if you are watching TV, whether via satellite, cable or the internet, it is likely that your provider or broadcaster has some of our equipment or is using signals from our equipment.
Learning and training is vital for all employees particularly for our graduates and placement students. While you are here you will have the opportunity to tap into the knowledge and expertise of our existing engineers, some of whom are leading experts in the field of video compression.
Alongside having our own training department, normally we will also rotate graduates through several areas to find out where their skills are and what they enjoy most. In short we like to think that everyone here is willing to help you learn and develop to becoming the best you can.
What you could be doing during your work placement
At Ericsson Television we develop and produce our own range of professional digital television products. This means we design, test and develop everything from our own in-house ASICs to the control and application software in the finished product. When combined these individual products make-up our digital television broadcast systems that we sell worldwide. Since what we do covers the whole end-to-end development of an electronic system the type of work available is extremely varied and could include:
Software and programmable logic development, simulation and test for in-house video-processing system-on-chip (SOC) devices (C, C++, VHDL, Verilog, System Verilog);
Hardware design, layout and test of high speed circuit boards;
Software development, simulation and test for low level DSP drivers (C and assembler) through to the web based customer control interfaces (C++, Python, Java, HTML).
Meet one of our Engineers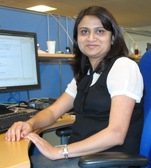 Job Title:
Senior Design Engineer
What I enjoyed studying at school
Although History and Geography were my favourite subjects in school I was also very strong in mathematics and enjoyed it a lot more than many of the other subjects. That being said I also enjoyed all the 3 sciences (physics, chemistry and biology), where physics was on the top.
What I liked about maths was that I didn't have to spend too much time studying it, just understand the concept and apply it to solve the problems.
How I chose my degree
I was very attracted towards computers so decided to choose a degree in Engineering. As I was not only interested in learning computer software, but was also interested and curious to learn about electronics behind it, so I decided to go for the Electronics degree. While at university I enjoyed the subjects like microprocessors, digital electronics, IC design, real time embedded software. I then specialised and graduated with an MSc in Advanced Microelectronics and Systems Engineering from the University of Bristol.
Why I chose to work for Ericsson Television
I chose this company because it is very successful and fast growing in what it is doing, not only in the telecom field but also in the broadcast domain as well. The company has a very big and interesting product portfolio which means there is always something new to learn and discover.
Even though it is a big company, I had no problem when I started getting adjusted to the environment. I always felt supported after joining the company, and straight after my degree.
Out of work
It's not all about engineering for me! I can balance my work life with personal life very well, as I like reading, travelling and cooking.