Our people are our greatest asset. It's their know-how, inspiration, energy and passion that drive us forward. Critical Software
Placement Location
Southampton
Type of Placements Offered
Any placements
Restrictions/Notes
(1) 12-month placement required; (2) This is a software-based placement
2022/23 Scholarships
We are not offering any new scholarships this year
Who we are and what we do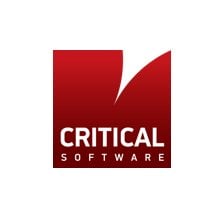 Critical Software provides systems and software services for safety, mission and business-critical applications, helping our clients to meet the most demanding standards for performance and reliability.
We were founded in 1998, and our very first client was none other than NASA. Today, we work in many different industries – including aerospace, energy, transport, finance, healthcare, maritime and defence.
Just as important as our technical expertise is our strong company culture and values, which guide us in everything we do.
Find out more about Critical Software through our infographic or in the video below:
What you could be doing during your work placement
You will get involved in all phases of the development cycle (requirements, design, implementation, test), with an emphasis on the design of software-intensive systems. You will investigate new technologies and methodologies to help maintain Critical's position as an innovator in the field of high integrity systems, as well as performing system administration tasks (e.g. web server configuration, Wiki administration, configuration control maintenance), producing accurate project documents to a high quality and communicating results with a high degree of accuracy and attention to detail.
Meet one of our Apprentices
Name:

Dan

Job Title:

Former Critical Software Apprentice
When I left college, I knew that I wanted to become a Software Engineer. Originally, I had planned to head off to university and, although I had briefly considered being an intern or an apprentice, I hadn't come across an opportunity that really interested me. When I discovered the intern and apprenticeship schemes at Critical Software, I was impressed and excited. I knew immediately that I wanted to work there!
For me, internships and apprenticeships represent a great way of getting a good job in an industry without going to university and building up a huge amount of student debt. Getting a formal degree whilst doing an apprenticeship is a brilliant opportunity, which offers someone a competitive-edge when applying for jobs.
I loved the complex, varied projects that I got to be part of on a daily basis. Moving between projects meant I was continuously learning about new technologies. I learned so many new skills during my time at Critical. Anytime I needed assistance, I could always count on support from my colleagues, even if I didn't work directly with them. This is one reason why Critical is a great company: the company as a whole was committed to my development. If there's an issue, the company worked with me to try to fix things. I've also made a lot of good friends during my time at Critical.
My apprenticeship has empowered me – learning through doing in such a safe space full of experts has been enlightening.