We design the latest DSP, FPGA and RF technologies into compact, powerful, and reliable products, and combine them with our industry-leading LTE software. CommAgility Ltd
Placement Location
Loughborough
Type of Placements Offered
• Summer placements • 6-month MEng placements
Restrictions/Notes
(1) Students must be in the penultimate year of their degree; (2) No 12-month placements
2022/23 Scholarships
To be confirmed
Who we are and what we do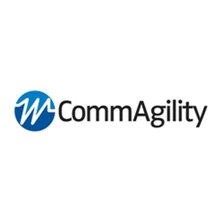 CommAgility is an award-winning, world-leading developer of embedded signal processing and RF modules, and LTE PHY/stack software, for 4G and 5G mobile network and related applications. Our products and technology are used in the most demanding real time signal processing, test and control applications, in areas including wireless baseband, private and specialized networks, satellite communications, radar and electronic warfare. We design the latest DSP, FPGA and RF technologies into compact, powerful, and reliable products, and combine them with our industry-leading LTE software. CommAgility has vast experience in LTE, especially around adapting the standards for novel application areas. We are highly flexible and work closely with our key customers to meet their technical needs and to support them through development into volume production.
CommAgility was honoured with a Queen's Award for Enterprise in Innovation in 2016, as well as a Queen's Award for Enterprise in International Trade in 2013. We featured in the Sunday Times Hiscox Tech Track 100 list of fastest growing technology companies in 2016 and 2015, and the Deloitte UK Fast 50 in 2016, 2013 and 2012.
CommAgility is part of Wireless Telecom Group, a global designer and manufacturer of advanced RF and microwave components, modules, systems and instruments.
Product capabilities
CommAgility has a broad range of hardware, based around the latest Texas Instruments DSP SoCs and Xilinx FPGAs, as well as RF interface cards. Our products include high performance processing cards in the AMC form factor, including integrated, flexible, wideband RF transceiver channels. We also offer a high performance ARM, DSP and FPGA based processing module in the compact OpenVPX form factor, suitable for harsh environments.
Since the 2015 acquisition of SDR pioneer MIMOon GmbH, CommAgility offers market leading LTE eNodeB and UE physical layer and protocol stack software solutions to LTE product developers. The software is available for licensing independently or as an integrated software/hardware board level solution.
Our products are used in the most demanding real time signal processing, test and control applications, in areas such as Wireless Baseband, Semiconductor processing, Medical Imaging, Radar and Sonar and include the following technologies:
5G digital front end processing
Bespoke embedded Linux board support packages
Multiple Texas Instruments and NXP Layerscape DSPs and communications System-on-Chip (SoC) devices
The most powerful Xilinx FPGAs
Precision RF interfaces
CPRI and eCPRI fronthaul antenna interface standards
Meet two of our Engineers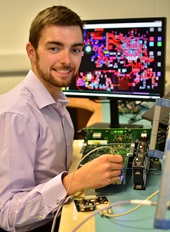 Job Title:
Hardware Engineer
Why I chose Electronics
Since playing with buckets of Lego when I was little and then programming and computers as I got older, I've always been interested in making things work. I enjoyed maths and physics at school, so I went to a university engineering open day. It was a great way to see different types of engineering but it was electronics that was really interesting. There was a really diverse range of things to design, build and analyse which got me really excited about the course.
While studying at university…
I did two industrial placements. They were a great compliment to the course itself – I definitely learned things that can't be taught in lectures. Solving real-world engineering problems and getting first-hand experience was a great addition to my course and meant that I knew what employers were looking for when I left. It gave me the opportunity to work with cutting edge hardware and software: I designed a GPS simulator which I continued to work on into my final year of university.
Now I work as a hardware engineer at CommAgility
I draw schematics for circuit boards with hundreds of components and thousands of connections. I'm involved with projects all the way from the "drawing board" through to seeing them manufactured and sent to customers. I'm pleased to say that the variety that I saw all those years ago on the open day is present in my job today – as well as hardware design I get involved in all sorts of different programming, testing and analysis, as well as solving problems with customers. There's always something new to learn and exciting projects to work on.
It's not all hard work though…
I developed a passion for cycling frequently with friends at university both on- and off-road. I ride even more now than I did then!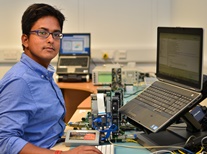 Job Title:
Software Engineer
From puzzles to Electronics
As a kid, I was fascinated by technology, especially how someone could talk on phone with someone else who was thousands of miles away was a puzzle to me. I was drawn by that puzzle which led to another puzzle, and the process continued. It is the combination of curiosity, ambition and excitement in solving these puzzles that led me to undertake a degree in electronic and electrical. This decision makes me feel lucky because it gives me the opportunity to work in cutting-edged technology, for example a project on MIMO – as used in 4G – at University of Bristol.
Why I joined CommAgility
Having finished my studies, I decided to focus on the signal processing domain because it involves a lot of advanced technologies in electronic and communications. CommAgility, being one of the world-leading developers of embedded signal processing and radio modules, is an ideal place for me to start my career as a graduate.
I first joined CommAgility as an intern and since then I have been working on the latest technologies in multicore DSPs and RF. The plus point of working in an SME is that I am involved in various aspects of the product life cycle from designing, development, to implementation and testing. The experience and support I get from CommAgility is incredible. It feels pleasant and satisfactory to be a part of the project team developing exciting products which set new standards in the field. Moreover, the work culture at CommAgility is full of positive energy. Our motto at work is to work smart and play hard, in which the company has organised many events for all employees to socialise and relax.
Outside of work
Travelling and food are my two hobbies which urge me to explore the world and experience its varied cuisines. I also love playing badminton and tennis, and enjoy socialising.