Our High Integrity Software Engineering expertise centre is involved in some of the UK's most exciting projects demanding the very highest level of engineering excellence.
Type of Placements Offered
• 12-month placements • Summer and 6-month MEng placements also offered (to students doing a 12-month placement before or after)
Restrictions/Notes
(1) Requires 12-month placement. Additional summer or 6-month MEng placements in other years also offered; (2) This is an embedded software or control and instrumentation-focused scholarship; (3) For some roles, students may need a minimum of 5 years permanent residency in the UK and be able to obtain security clearance.
2023/24 Scholarships
One new scholarship
Who we are and what we do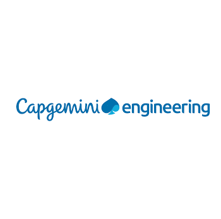 Capgemini Engineering is a global leader in partnering with companies to transform and manage their business by harnessing the power of technology. The Group is guided everyday by its purpose of unleashing human energy through technology for an inclusive and sustainable future. It is a responsible and diverse organization of 300,000 team members in nearly 50 countries. With its strong 50 year heritage and deep industry expertise, Capgemini is trusted by its clients to address the entire breadth of their business needs, from strategy and design to operations, fuelled by the fast evolving and innovative world of cloud, data, AI, connectivity, software, digital engineering and platforms. The Group reported in 2020 global revenues of €16 billion.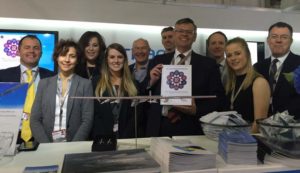 We develop software for safety related and critical applications in the Aerospace, Defence, Rail, Automotive and Energy sectors, often related to critical national infrastructure.
Our industry award winning projects make step changes in operational efficiency and safety in their domain and are highly respected by our customers.
You will join a diverse team of excellent and experienced engineers who are committed to ensuring our projects meet our customers' high expectations.
We have a range of projects from single person consultancy roles with customers supporting them with their software challenges to large scale, multi-million in-house software development projects – and everything in between.
You will get the chance to use your skills and learn new ones, develop and enhance your career and progress down the specialisms that interest you.
You'll get all the relevant training and mentoring required to work on these high value projects.
What you could be doing during your work placement
You will be given opportunities to gain experience in the software development life-cycle by rotating through multiple roles on multiple projects.
This on-the-job training will cover requirements engineering, systems design and decomposition, architectural design, coding, verification and validation.
Successful applicants' opportunities could include:
Developing the requirements for a train control system
Using mathematical proof to demonstrate that safety properties are met
Developing code that will fly all over the world and operate 24/7 without incident for decades
Developing reference models
Researching new tools and techniques
Capgemini will provide you with the support you need to excel, including:
Tailor-made software engineering training– we have programmes to suit those with a software background, and those who do not.
A personal line manager/coach who will work with you to identify your personal development goals
Workshops presented by resident experts
Opportunities to select courses from a long list of course providers or attend relevant conferences
Regular forums to share experience and ideas across the business.
Jerome joined us from Bath University:
"In the four months I have been at Altran (now Capgemini), I have worked as a developer on a small-scale project. It has given me the opportunity to practise my programming skills and work alongside other developers. I have already had the opportunity to visit a client site and present the work I have done. I was welcomed quickly by the team and participated within the weekly team meetings. I am currently starting training in preparation for joining a large project as a tester, giving me experience in an area of the software cycle I have not encountered before and the chance to work with new people. I recommend Altran (now Capgemini) to those who want to experience all of the software engineering life cycle. You will be treated as an equal team member and given real responsibilities. People are very friendly and helpful and will ensure that you receive the appropriate amount of work and offer the guidance that you need."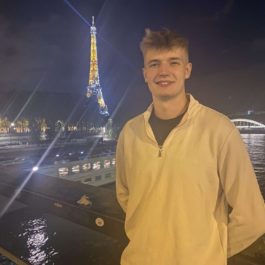 Sponsor:
Capgemini Engineering
University:
University of Nottingham
Degree Course:
MEng Electrical and Electronic Engineering
What appeals to you about Electronics?
I got into EEE because I enjoy solving challenging problems that are meaningful and have demonstrable impact. There are many potential career paths from a EEE degree and it gives you a wide skillset ranging from software to HV electrical systems to LV electronics, with a strong foundation in Maths and engineering principles.
Why did you want a scholarship with Capgemini Engineering?
Capgemini Engineering does critical work, particularly at the Bath office where we engineer High-Integrity software (software where it is vital – usually for safety reasons – that it does not fail). They appealed to me because, being a consultancy, they work in a wide array of important fields (e.g., Transport, Defence, Energy) and for a long list of notable clients. They are also software focussed, which enables me to get experience and insight into SWE, – adding to my overall skillset.
What type of work have you been involved with during your placement?
Since starting, I have been working on a project involving RESTful APIs and Language Servers, mainly using Java and Typescript – both languages that I was not too familiar with. This has been extremely useful as the project has been paced very well and I have become very confident with both languages, particularly Java, in a very short space of time without feeling out of my depth. My understanding of SWE is already much greater after just three months of working.
What are your interests outside of work?
In Bath there is always lots to do, and the office is ideally located in the centre of the city. I have taken up playing Badminton at a local club every week, and joined a Gym situated next to the office. There are also lots of places nearby to go walking, great pubs and restaurants in Bath, and good nightlife to be found nearby in Bristol. Since my placement started, I have been re-learning both French and Guitar in my spare time.