We've been at the forefront of product design and engineering for 50 years. Cambridge Consultants
Placement Location
Cambridge
Type of Placements Offered
• Summer placements • 12-month placements • 6-month MEng placements
2023/24 Scholarships
We are not offering any new scholarships this year
Who we are and what we do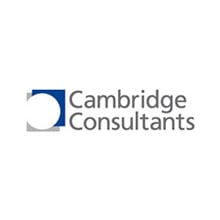 Cambridge Consultants is a multi-disciplinary engineering design consultancy. We've been at the forefront of product design and engineering for 50 years. Clients from every sector come to us to help them create world-changing products and solve seemingly impossible problems. If you're someone who craves that kind of variety and loves that kind of challenge, you'll be in good company here.
A wildlife camera designed to work in the Antarctic. A satellite base station that fits in the palm of your hand. An auto injector that makes vital injections less stressful and more effective for patients to deliver themselves. These are just a few of the projects we've worked on recently. Our clients range from large global companies to innovative start- ups, and most of them come to us because they want to do something that has never been done before.
With over 300 scientific, engineering and design problems tackled – and solved – each year, Cambridge Consultants offers an endless variety of challenges. There are lots of different design projects going on at any one time, using different technologies for different markets (medical, wireless, energy, consumer, industrial,security). We find that the students who gain most from their time at Cambridge Consultants are the self-starters who search out the projects that suit them best! Could this be you?
What you could be doing during your work placement?
The projects scholars work on vary according to what is best matched to their experience and interests. You could be working on a client project or an internal investment project. You could be designing electronics, a sensor algorithm or writing software. You could be in a brain-storm discussing user requirements or system architecture. You could be running a test system or writing a specification. Or perhaps meeting our clients or preparing a demonstration for a show. We like to offer variety and responsibility at the earliest possible stage in your career – but of course you'll have lots of support from experts in many fields.
Scholars gain invaluable hands-on experience by working alongside our staff on real projects. It's also a chance to show us what you can do – scholarships can sometimes lead to the offer of a full-time job once you've completed your studies.
Meet one of our Engineers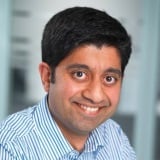 Job Title:
Group Leader in the Wireless Division
I've always been a practical person, curious about how things work and what made them tick. As a child that often resulted in breaking apart my toys – much to the dismay of my parents! I was always passionate about science and mathematics too, so when it came choosing a university degree it wasn't a difficult choice for me to choose Engineering at Cambridge university (specifically Communication and Information Engineering). I felt that it would offer me a good balance of theory, practical skills and real-world application.
My work placements
Throughout university I was fortunate to complete a number of work placements which allowed me to experience practical engineering complimenting the theory learnt at university, and also see how real businesses operate in a commercial and project sense.
Why I joined Cambridge Consultants
I joined Cambridge Consultants about 7 years ago and it was really the opportunity to work with a large array of current technologies and for a diverse range of clients that attracted me. You also get to work closely with other disciplines (digital, RF, mechanical etc.) so there's lots of opportunities for you to learn and grow as an engineer. The company places much emphasis on developing its employees so if you've got the energy and passion to do something the company will support you. I joined here as an engineer developing the low level software for wireless communication systems like the current mobile phone standards including 4G and satellites. We've also been researching 5G technologies.
Where I am today
I now lead a group of more than 20 engineers and there's still not a day that goes by when I need to motivate myself to come into work!