Our Mission: Build great products that accelerate next-generation computing experiences.​ AMD
Placement Location
Edinburgh, Belfast or Cambridge
Type of Placements Offered
• Summer placements • 12-month placements • 6-month MEng placements
Restrictions/Notes
Students must be in the penultimate year of their degree
2023/24 Scholarships
At least one new scholarship
Who we are and what we do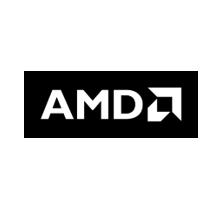 Founded in 1969 as a Silicon Valley start-up, the AMD journey began with dozens of employees focused on leading-edge semiconductor products. From those modest beginnings, AMD has grown into a global company setting the standard for modern computing through major technological achievements and many important industry firsts along the way.
Rooted in an innovation-driven culture, AMD employees collaborate every day to maximize the potential of modern computing, utilizing semiconductor innovation to transform how people live, work, learn and play.
Today, AMD offers the industry's broadest portfolio of leadership high-performance and adaptive processor technologies, combining CPUs, GPUs, FPGAs, Adaptive SoCs and deep software expertise to enable leadership computing platforms for cloud, edge and end devices.
Our Vision: High performance and adaptive computing is transforming our lives. Our Mission: Build great products that accelerate next-generation computing experiences.​
What you could be doing during your work placement
AMD develops highly flexible and adaptive processing platforms that enable rapid innovation across a variety of technologies – from the endpoint to the edge to the cloud. AMD/Xilinx is the inventor of the FPGA, hardware programmable SoCs and the ACAP (Adaptive Compute Acceleration Platform), designed to deliver the most dynamic processor technology in the industry and enable the adaptable, intelligent and connected world of the future in a multitude of markets including Data Center (Compute, Storage and Networking); Wireless/5G and Wired Communications; Automotive/ADAS; Emulation & Prototyping; Aerospace & Defense; Industrial Scientific & Medical, and others. AMD's core strengths simultaneously address major industry trends including the explosion of data, heterogeneous computing after Moore's Law, and the dawn of artificial intelligence (AI).
AMD's University Relations team is committed to helping students and graduates expand and apply their theoretical knowledge, while building on-the-job skills. Interns with the University Relations program are encouraged to display their talents, build professional networks, participate in real-life engineering challenges, and apply back to fulltime opportunities upon graduation. Be part of the team that enables today and inspires tomorrow!