A leading global technology company that designs and manufacturers world-class RF/microwave, microelectronics, and security technologies solutions Spectrum Control
Placement Location
Gloucester
Type of Placements Offered
Summer placements only
Restrictions/Notes
(1) No first years; (2) Must have a minimum of 5 years permanent residency in UK; (3) Candidates required to undergo security clearance
2022/23 Scholarships
One new scholarship
Who we are and what we do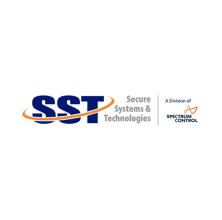 Secure Systems & Technologies (SST) are a division of Spectrum Control – a leading global technology company that designs and manufacturers world-class RF/microwave, microelectronics, and security technologies solutions for a broad range of critical and high-reliability applications.
SST are based in Gloucester and specialise in the design and manufacture of TEMPEST and secure communications solutions. SST's product range is largely based on leading brand electrical and IT equipment, which is then re-designed, tested and certified to be TEMPEST compliant. SST also design and manufacture secure communications that are non-TEMPEST but still meet strict data at rest security requirements.
SST solutions enable government organisations and defence agencies in the UK, Europe, and NATO to securely access sensitive and classified data and systems, whilst preventing the possibility of covert eavesdropping security breaches.
What is TEMPEST?
TEMPEST is defined as the study of the unintentional emission of protectively marked data from equipment or systems. It refers to spying on information systems through leaking emanations, including unintentional radio or electrical signals, sounds, and vibrations.
TEMPEST is often seen as the cyber security blind spot, yet it still poses a very real threat to organisations around the world. The most precious commodity is data, and integrity is vital as any compromise or breach can lead to financial, political and/or life-threatening consequences.
SST's product range is designed to protect sensitive and classified data from covert surveillance and TEMPEST eavesdropping attacks. This is done by re-designing, testing, and certifying electrical equipment to be TEMPEST compliant.
What you could be doing during your work placement
Working in a small team, you will gain experience supporting with electronic/electrical and mechanical housing engineering design projects.
You will have the opportunity to get involved with the design of solutions and see how they progress from initial customer enquiry through to production. You will also work on the production of full product drawing packs, prototype unit builds, compiling BoMs, research and innovation projects, and the use of 3D and 2D CAD tools.
Meet one of our Engineers
Job Title:
Design Team Leader
Why did you choose Engineering?
After leaving school I always wanted to get into sport, but after a couple of serious knee injuries, it wasn't possible.
My dad is an engineer and progressed through a company with hard work into a head of technical sales role. I saw engineering as a career which I could progress based on my hard work. I always had a keen interest on understanding how things work and why.
After starting an advanced design apprentice with ZERO engineering experience I quickly realised it was for me.
What is it like to work at SST?
Working for SST is all about a team culture, all departments are heavily interlinked with an emphasis on team integration. We produce products which make a huge difference in the world of defence and as an engineer at SST, you are the lead in creating a huge variety of products from cradle to grave which you can really put your personal mark on.